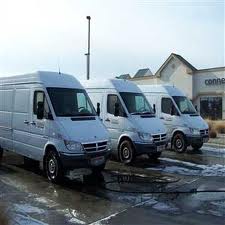 The importance of first impressions cannot be overstated when it comes to the public appearance your company's name, employees and personnel make when out in the field. Nothing makes quite the negative reaction as does that of a fleet of dirty trucks, delivery or service vans. You know the kind, the one that begs someone to write "WASH ME" with a finger in the grime on an otherwise possible lovely finish.
We understand the battle of keeping your vehicle fleet clean, especially in an urban environment where pollution and exhaust are constantly layering a new coat of dust, dirt and detritus on your trucks, vans and cars. Yet, the bad impression it makes on people with no knowledge yet of your company must be nipped in the bud if you are to stay competitive.
All the more reason to consider Envirowash, a company offering the finest in commercial truck pressure washing systems and services you can find! A regularly cleaned truck fleet will help keep appearances up where they should be, ahead of the competition, and raising the bottom line.