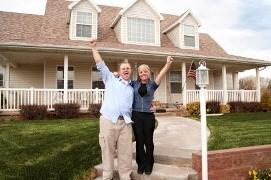 Cleanliness. It's something that we all want. Whether it is your home or commercial building, there are many reasons why we pursue a clean environment. If it is your home, a clean exterior is healthier for your family, improves your property values and helps your roof, driveway and home to last longer. Your business gets the same benefits as a home but also the added benefit that only a clean and inviting store or building can give, the benefit of a positive impression. If your storefront or commercial building is dirty then prospective customers will pass you by without a second look. When it comes to achieving a deep, complete cleaning many people recognize professional pressure washing as a great value.
A Versatile Solution
The reason so many turn to pressure washing is simple, no other single cleaning solution is as effective on such a wide variety of surfaces. Pressure washing is great for cleaning the siding on your home, your driveway, your patio even you fence and roof. The reason pressure washing can be used on so many surfaces is that it is just water. While there are some detergents used, water is the main ingredient. The level of pressure of the water can be adjusted so that no matter what the surface a deep cleaning can be achieved safely.
Smithfield VA Leader In House Pressure Washing
With such a wide variety of surfaces being cleaned at once you save time and money with the result being a brilliantly clean exterior for your home or business that you can be proud of. By power washing your home or commercial building, you are not only adding value, you are saving money on costly up keep.  Our professional services will reduce how often you will have to paint or replace siding. At Envirowash, we take extreme pride in our power washing technique by using ONLY top quality cleaners that won't damage you home, lawn or environment, which guarantees customer satisfaction! Call or contact Envirowash today to request your free pressure washing estimate. (757) 599-3164
Our Services In Smithfield VA:
Deck Cleaning / Staining
Fence Cleaning
Driveway & Concrete Cleaning
Aggregate & Stamped Sealing
House Washing
Roof Cleaning
Apartment Cleaning
Shopping Center Cleaning
Condo & Townhouse Cleaning
Property Management Cleaning
Commercial Truck Washing
Oil Spill Cleanup & Recovery