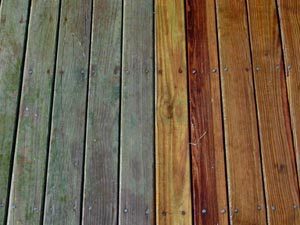 The harsh effects of weather exposure can turn a beautiful wooden deck into a gray-toned eyesore in only a few years. Deck cleaning and staining can restore it to its former beauty when properly done by a professional. You may think that a garden hose, a bucket of soapy water and a long-handled scrub brush in the hands of a determined homeowner might be sufficient to revitalize a worn-looking deck, but this is not the case.
Harmful Effect Of The Elements
Long-term exposure to ultraviolet rays from the sun can fade wood deeply and cause it to dry and age. Wood is naturally porous, and as it becomes more and more weathered, it becomes increasingly so. Dirt, mildew, bird droppings, tree sap and other contaminants soon penetrate deep into the topmost layer of the wood. These stains cannot be removed by mere scrubbing. You need to seek a professional for deck cleaning and staining.
Where Hampton Roads VA Turns To For Deck Cleaning & Staining
When it comes to deck cleaning, Envirowash is the Hampton Roads VA expert. Using high-pressure water to power wash the wood, we remove dirt and grime, while actually stripping away a thin layer of the old, ugly, damaged wood in order to expose the fresh, new wood underneath. After your deck has been professionally washed, the fresh surface should be protected with some type of wood preservative or deck staining product. Envirowash only uses the highest quality compound that seals out water. A professionally cleaned and stained deck should only require minor maintenance every so often. If not neglected, it will give you many more years of use and enjoyment. Call or contact Envirowash today to request your free deck cleaning and staining estimate. (757) 599-3164
Our Services In Hampton VA:
Deck Cleaning / Staining
Fence Cleaning
Driveway & Concrete Cleaning
Aggregate & Stamped Sealing
House Washing
Roof Cleaning