When you come home every day and pull up to your house you feel a sense of innate pride in your home. As you hop out of your car and take a few steps to the door you take in the landscaping, the condition of the home itself. Perfect. You assume this is how others see your home too. However, you have overlooked one major area of the home, your driveway. As visitors arrive at your home they park on and walk up your driveway.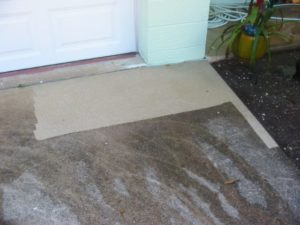 Neighbors across the street can't help but see your driveway (think about it, don't you look at theirs?). Take a moment and really consider what condition your driveway is in. Better yet, walk across the street and examine all the visible dirt and grime and how it dramatically detracts from the overall appearance of your home. Now you see the need for driveway cleaning.
Professional Driveway Cleaning Or Do It Yourself?
So your driveway needs cleaned. Okay, this is something that you can do yourself right?  Consider the following; the climate here in Virginia has many warm and sunny days that encourage you to be out and about. With every step that you take on your driveway you deposit tiny specs of dirt onto it. Multiplied by many steps each day (the kids count too!) every day of the year, and you can see how driveways get dirty quickly. As you drive and/or park your car on the driveway oil and rust stains become a real problem, besides all the dirt your tires carry. So cleaning your driveway is a time consuming affair at the least. With a low pressure consumer grade pressure washer it can be an exercise in frustration as you go over a spot several times and not get it clean – these machines simply do not have the power needed to deep clean concrete. Having your driveway professionally cleaned not only saves you the time and effort but with professional grade equipment your driveway will attain a level of clean that simply cannot be accomplished with consumer pressure washing machines.
Only The Best Will Do
Envirowash has been helping homeowners add beauty to their homes by cleaning and revitalizing their driveways for over 15 years. When you select Envirowash to pressure wash your driveway you not only know the job will be done right, you also get the peace of mind knowing that it will be done in the most environmentally friendly manner possible. We proudly serve Yorktown, Newport News, Hampton Roads VA and the entire Tidewater area. When you are ready set off your home with a beautifully clean driveway call or contact us today to request your free estimate. (757) 599-3164
Our Virginia Residential Services Include:
Deck Cleaning / Staining
Fence Cleaning
Driveway & Concrete Cleaning
Aggregate & Stamped Sealing
House Washing
Roof Cleaning
Apartment Cleaning
Shopping Center Cleaning
Condo & Townhouse Cleaning
Property Management Cleaning
Commercial Truck Washing
Oil Spill Cleanup & Recovery