More and more people have nice ornamental driveways. Whether it is stained concrete, pavers, brick or some combination people seem to recognize that a nice driveway can really add to the visual appeal of a home. However, this is only true so long as the driveway is well maintained and kept clean.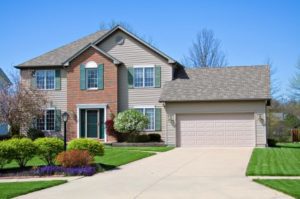 A dirty driveway, no matter how great it was to start, will detract from a home. Since driveways are one of the most trafficked areas of a home it can be a real challenge to keep them clean.
Pressure Washing – Comprehensive And Efficient
Having your driveway pressure cleaned by a professional pressure washer is a wise way to ensure that your driveway always looks its best. Pressure washing provides the kind of efficient and comprehensive cleaning that just cannot be replicated by any other means, regardless of the surface. This is because a pressure washer will adjust the pressure of the water coming out of the nozzle, why is that important? Different surfaces have different pressure bearing capacities. The same pressure used to clean a concrete slab might split a brick in two or severely damage a paver. By being able to adjust the pressure of the water being used an experienced pressure washing contractor can clean a driveway that has brick, pavers and concrete in the same time as it would take to clean a driveway that is just concrete!
Save Time And Money
If you have ever tried to manually scrub your driveway or even use a consumer grade pressure cleaner to clean your driveway then you know that it can consume an entire day. Because of the very high pressures, techniques and detergents used by professional pressure washing contractors that same job can be done in a fraction of time. All the while you are free to do other things. By regularly pressure washing your driveway you can cut down on the growth of molds and mosses which can damage the surface of a driveway to the point that you would potentially have to replace it!
Trust Only Professionals
While there are many pressure washing companies out there, it really pays to do your research. Only employ an experienced pressure washing company that has the tools and expertise to get the job done right. Really, your home is too precious to trust to anyone else. At Enviro Wash Inc. we have been cleaning driveways for over 15 years and use the very latest in pressure cleaning technology. We invite you read our testimonials; you'll see why Enviro Wash Inc. is the only choice for your property. Call or contact us today for your free estimate! (757) 599-3164.
Our Virignia area services include:
Deck Cleaning / Staining
Fence Cleaning
Driveway & Concrete Cleaning
Aggregate & Stamped Sealing
House Washing
Roof Cleaning
Apartment Cleaning
Shopping Center Cleaning
Condo & Townhouse Cleaning
Property Management Cleaning
Commercial Truck Washing
Oil Spill Cleanup & Recovery