Virtually all businesses and commercial organizations recognize the value and benefit of regularly scheduled commercial pressure washing services.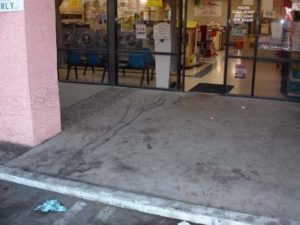 Keeping your retail building or store front clean and tidy sets the tone for the type experience your customers can expect once inside. It also enhances employee pride and stimulates a more productive work environment.
Save Money By Being Clean
But, did you know that commercial pressure washing, as part of your regular year round maintenance, actually saves you money? The longer dirt, grim, mold and mildew are allowed to remain on or around your building, drive-thrus, fleet vehicles, or trash enclosures the more difficult and costly it will be to pressure wash it later. What's more, certain mildew and algae are actually corrosive to certain building materials and can lead to expensive building repairs if left unchecked.
No Time Like The Present
This is especially true during Virginia's summer season as mass amounts of rain have the uncanny ability to accumulate deposits right where you do not want them. But even so, you can take action now to keep your business sparkling clean! At Envirowash, we offer a fast and professional solution for your commercial pressure washing needs. We use the exclusive cleaning methods of "Soft-Washing." This method ensures that your commercial property gets cleaned while not damaging any of the materials. Our professional, trained and dedicated commercial pressure washing team can assist you no matter what your needs are. Our team can be seen all over the Hampton Roads pressure washing apartments, shopping centers, condo & townhome complexes, commercial fleets, as well as cleaning up oil. Contact or call us today for all your commercial pressure washing needs! (757) 599-3164.
Envirowash offers the following commercial pressure washing services to the Hampton Roads VA area:
Apartment  Cleaning
Shopping Center Cleaning
Condo & Townhouse Cleaning
Property Managment  Cleaning
Commercial Truck Washing
Oil Spill Cleanup & Delivery