Keeping a clean and tidy home is something that we are all interested in doing. However in these economic conditions finding a cost effective way to maintain our homes is more important than ever. Today people consider one-stop shops to be of good value and pressure washing is the ultimate one-stop shop and is a cost effective way to clean your home.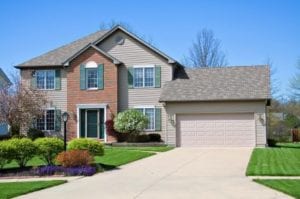 Because pressure washing can be done on such a wide variety of surfaces it is one of the best bang-for-your-buck solutions when it comes to the cleaning of your home's exterior.
Complete Cleaning Solution For Your Home
Residential pressure washing services at Envirowash involve environmentally friendly detergents and water in the hands of a skilled professional. This makes pressure washing a viable cleaning solution for virtually every surface of your home. Pressure washing can be performed on sidewalks, driveways, patios, fencing, siding, brick, and stucco just to name a few. But it is not just about the surfaces, when you choose Envirowash to power wash your home we remove all types of dirt and contaminants like dirt, grime, mold, algae, mildew and even rust stains.
Suffolk VA Leader In House Pressure Washing
With such a wide variety of surfaces being cleaned at once you save time and money with the result being a brilliantly clean exterior for your home that you can be proud of. By power washing your home,  your not only adding value, your saving money on costly up keep.  Our professional services will reduce how often you will have to paint or replace siding. At Envirowash, we take extreme pride in our power washing technique by using ONLY top quality cleaners that won't damage you home, lawn or environment, which guarantees your satisfaction! Call or contact Envirowash today to request your free house pressure washing estimate. (757) 599-3164
Our Services In Suffolk VA:
Brick House Washing
Vinyl Siding Pressure Washing
Stucco Pressure Washing
Soft Washing Services